Yes, it is happening on Saturday, April 17th at 6:00 PM. We're having banquet number 27 and we want you to be there, in your own home, but with us virtually. There will be singing, testimonies, and the director will let you in on our plans for the future.
Even though we took in our first newly released "returning citizen" in 1991, by 1993 we realized there were still a lot of folks that didn't know about the wonderful happening for those being released. Thus our first banquet was established in West Palm Beach, Fl. With the generosity of Trinity United Methodist Church and the use of their fellowship hall and many volunteer we began what was to become a yearly event and fund raiser.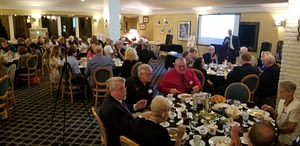 So many wonderful people have attended in various locations. We've had banquets at First Methodist Church of Stuart, Advent Lutheran Church, The Gathering in Okeechobee, First Presbyterian Church of North Palm Beach, Poinciana Country Club and Atlantis Country Club. All have been wonderfully received and attended.
Most of those banquets were for Matthew 25 Ministries, which we still have. We are still going INTO prison, but we formed a new corporation 2 years ago, for the newly released and that after care is called "Restoration Destination." Since there are over 130 guys at Restoration Destination, that is were the donations are most needed.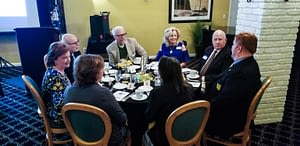 If you have ever attended any of our gala events in the past, and some have been present at most of the 27 we've had, then this one is equally as exciting. The one difference is that you don't have to wonder what to wear or drive to a place. You can really, really enjoy from your own castle. We will be filming from our sanctuary, right on our 24 acre campus and those partaking of the turkey dinner will be men from our community, staff and board members.
If you would, please consider donating the price of what a ticket has been in the past—$60. per person or $300. for a table of 6. Of course you may add any additional amount the Lord tells you to add, and we will be very grateful.
Sooo…
Click here to subscribe and set your reminder from YouTube!
Grab your plate, whatever device you will be using to view this happening, and your credit or debit card, and be ready at 6:00 PM on Saturday April 17, 2021 to sit back and enjoy our virtual banquet designed just for you.
BON APPETITE!